Farmers, Ag Students Discuss Trade, Sustainability and Effective Leadership
Posted on: 2018-01-12 10:14PM Hits: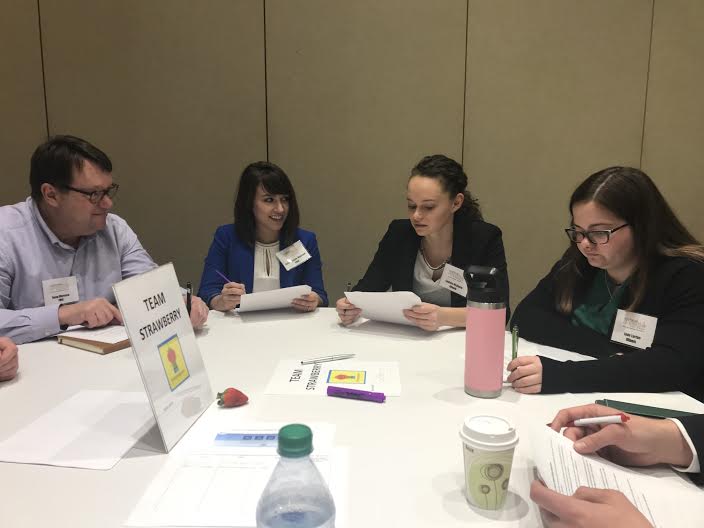 Soybean Leadership College attendees divide into teams for a Jeopardy game to explore ag leadership and board expectations.
Agricultural industry front runners met in St. Louis this week for the American Soybean Association's (ASA) 18th annual Soybean Leadership College (SLC), where they discussed the ag outlook for 2018, effective leadership and how to talk to consumers about modern agriculture.
SLC provides current and future agricultural industry leaders with training to effectively promote the soybean industry, communicate key agricultural messages and work to expand U.S. soybean market opportunities domestically and internationally while fostering networking between growers from across the country.
The 2018 event opened with an overview of what's expected in agriculture this year from both economist Matt Roberts, Ph.D., The Kernmantle Group, and Kate Lambert, assistant vice president, Farm Credit Service Financial.
Lambert also discussed transitioning to next generation on farm and lending for younger growers.
Davie Stephens (KY), ASA vice president and Nancy Kavazanjian (WI), United Soybean Board (USB) director presented "A Tale of Two Soybean Organizations." Kavazanjian and Stephens outlined the purposes of both organizations and how both perform the important work that supports soybean growers and the industry.
In a break-out session, Ally Perry from the Center of Food Integrity (CFI) shared how significant social shifts over the last 40 years have led to a decline in trust and rebuilding trust in the food system requires a new approach. She encouraged ag leaders to share their values, embrace skepticism and put the "why" before the science in conversations.
Attendees formed teams and played a game of Jeopardy in a break-out session that gave insight into serving as a leader in today's soybean organizations. Combined with trivia about ASA, USB and Qualified State Soybean Boards (QSSB), attendees also took away information about expectations of a board member and how to build a strong board.
U.S. Soybean Export Council (USSEC) CEO Jim Sutter presented an update on trade and sustainability, sharing interesting facts like the number one U.S. soybean meal market is now the Philippines.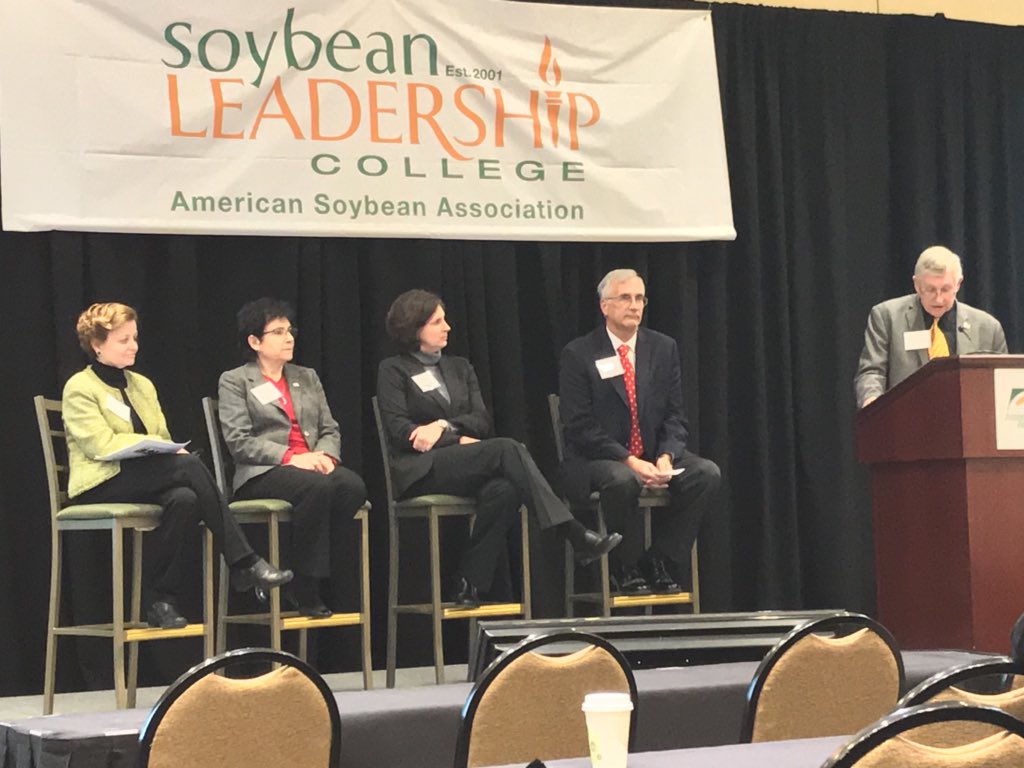 Diane Herndon, senior manager, sustainability, Nestle/Purina, Nancy Kavazanjian USB, Rosalind Leeck, director of market access, USSEC, and Ron Moore, ASA chairman, talk sustainability.

Attendees also heard from a panel on sustainability, including Kavazanjian USB, Rosalind Leeck, director of market access, USSEC, Ron Moore, ASA chairman and Diane Herndon, senior manager, sustainability, Nestle/Purina. Each participant shared their views and what they are doing to be sustainable.

"Increasing production of food, while preserving natural resources, while making our communities a better place to live and work," is how Moore defined sustainability for the crowd.

Keynote speaker Richard Fordyce, state executive director, U.S. Department of Agriculture (USDA) – Missouri Farm Service Agency, delivered closing remarks on ag advocacy. "Advocacy has to be consistent, positive and personal," he told the group, encouraging them to make time in busy schedules for reaching out.

After two days of learning, participants visited the St. Louis City Museum, where they explored caves, climbed through tunnels and rode a 10 story slide, while networking.

Special thanks to Soybean Leadership College sponsors:

Corporate Partners:

BASF Farm Credit USB FMC

State QSSB Sponsors:

Arkansas Soybean Board Illinois Soybean Association Indiana Soybean Alliance Iowa Soybean Association Kansas Soybean Commission Kentucky Soybean Board Michigan Soybean Promotion Committee Minnesota Soybean Research and Promotion Council Missouri Soybean Merchandising Council Nebraska Soybean Board New York Corn & Soybean Growers Association North Carolina Soybean Producers Association North Dakota Soybean Council Ohio Soybean Council South Dakota Soybean Research and Promotion Council Tennessee Soybean Board Virginia Soybean Board