Destructive Pest Alert: Fall Armyworm (FAW) is paving its way to Nepal
Posted on: 2019-01-10 10:25PM Hits:
by AbduRahman Beshir, Hari Kumar Shrestha and Bandana Pradhan
The invasive agricultural pest Fall Armyworm (FAW), Spodoptera frugiperda, is considered a threat to global food security. Originally from the Americas, the pest was identified in Africa in 2016 and was first detected in India in 2018, where it is causing significant loss to farmers in Karnataka and other Southern Indian states. The presence of FAW has recently been confirmed in Bangladesh and Sri Lanka, and unofficially in Thailand. There is a high probability that the migratory pest will reach Nepal soon. The deadly pest has a voracious appetite for maize and other crops and its impact would be huge for the Nepalese farmers and economy. There are climatic conditions in Nepal are suitable for the establishment of FAW populations, which can potentially cause up to 100 percent crop loss in maize if not managed properly. Therefore, urgent attention and preparedness on the threat of FAW is crucial.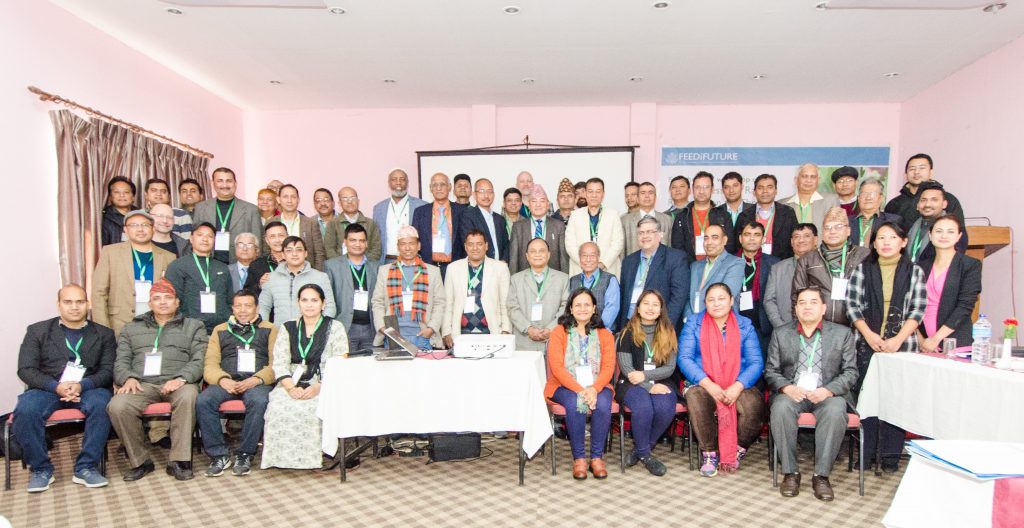 Participants at the meeting organized to raise awareness of FAW. Photo: CIMMYT

Aiming to raise awareness and sensitize stakeholders on this subject, a workshop was organized where scientists, agriculture experts, entomologists, government, private sector, academia, USAID and other relevant stakeholders discussed potential solutions to combat threats of FAW if and when the pest is reported in Nepal. The event was jointly organized by the Feed the Future Nepal Seed and Fertilizer project, the Integrated Pest Management Innovation Lab and the Plant Protection Society of Nepal on November 30, 2018 in Kathmandu, Nepal.

Fall armyworm is a migratory insect-pest native to tropical to subtropical regions of the Americas. In 2016, it reached Africa and has spread to over 40 sub-Saharan African countries and was detected in Karnataka, India in July 2018. The pest can occur in large numbers, causes severe damage to more than 100 plant species, and the moth can fly up to 100 km per night. The female moth can lay up to 1,000 eggs in her lifetime, which makes it more difficult to eradicate this invasive pest.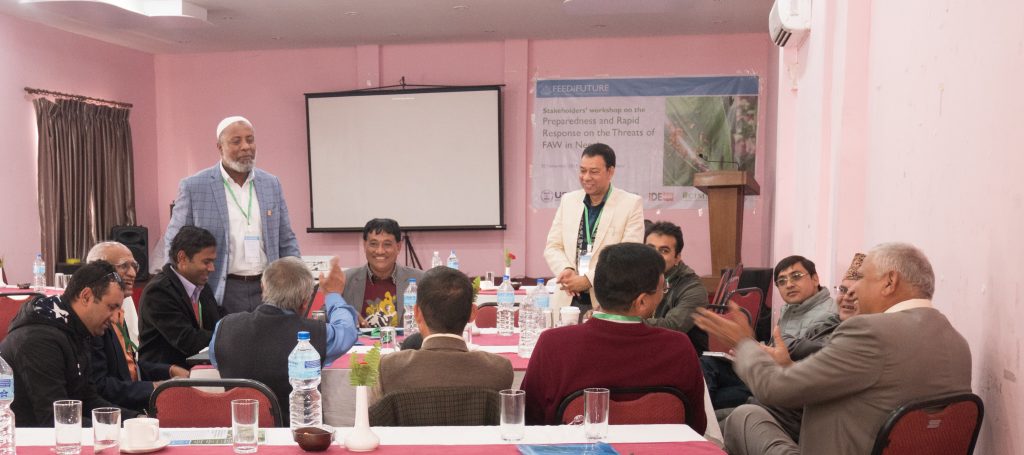 Participants discuss the threats of FAW and necessary actions to take during the meeting in Nepal. Photo: CIMMYT

In the opening address to the workshop, Yubak Dhoj G.C., Secretary of Nepal's Ministry of Agriculture and Livestock Development (MoALD), highlighted the importance of the fall armyworm sensitization workshop and acknowledged the organizers for convening a timely workshop by gathering relevant stakeholders from all over the country. Yubak mentioned the relevance of creating awareness on FAW among researchers, academia and the private sector, among others, so that trained manpower can be mobilized on the pest surveillance, monitoring and management to fight against the pest. The various sessions were facilitated by presenters from the United States, India and Nepal who shared critical insights and lessons on FAW and possible management technologies being used in countries where the pest has been reported. Luke Colavito, country director for International Development Enterprises (iDE) Nepal, shared learnings of effective control measures that were developed to manage the tomato pest, Tuta absoluta, which arrived in 2016, and emphasized utilizing similar collaborations to cope with FAW. Rangaswamy Muniappan, director of the Integrated Pest Management Innovation Lab (IPM IL) at Virginia Tech, works on the biological control of invasive pests in Asia and Africa. He described the origin, distribution and economic impact of the FAW in Africa, the Americas and India. Similarly, KRM Bhanu, General Manager at Bio-Control Research Laboratories (BCRL)/Pest Control India in Bangalore, presented on the supply chain system of pheromone lures and its potential advantages in the detection and surveillance of the pest in Nepal. AbduRahman Beshir, maize improvement specialist and seed system lead for the International Maize and Wheat Improvement Center (CIMMYT Nepal) described the global role of CIMMYT in leading the R&D work on FAW together with other partners and also shared CIMMYT's efforts on the development of host plant resistant as part of integrated pest management approaches. Representatives from iDE Nepal and the Plant Quarantine and Pesticide Management Center (PQPMC) discussed FAW management options and suggested actions to be taken in the near future.

The attendees suggested various integrated pest management (IPM) approaches and developed a preparedness plan of action for the likely invasion of FAW. The participants proposed the formation of a task force at the federal and provincial levels to create awareness, educate and alert farmers before and after the pest is detected in Nepal.